When you're looking for an engagement ring, you know you have to part with a grand sum. How to make this better? Go for budget friendly small engagement rings under $600. It saves you a lot of money that you can save up for your future life together. When you save up on the ring, you can perhaps save for a house together. Interested? There are gorgeous engagement rings under $600. Let's find out!
The Best 6 Budget-Friendly Small Engagement Rings under $600
Small is big in case of engagement rings. Going for a budget friendly small engagement ring does not mean you have to lose all the charm and glamour.
What you need to look at are the diamonds in your engagement ring. As you can get a decent quality setting for the ring made in less than $600, we're gonna list those engagement rings. You can ogle them and click on the image to go to the original site of the seller to buy it.
Ready?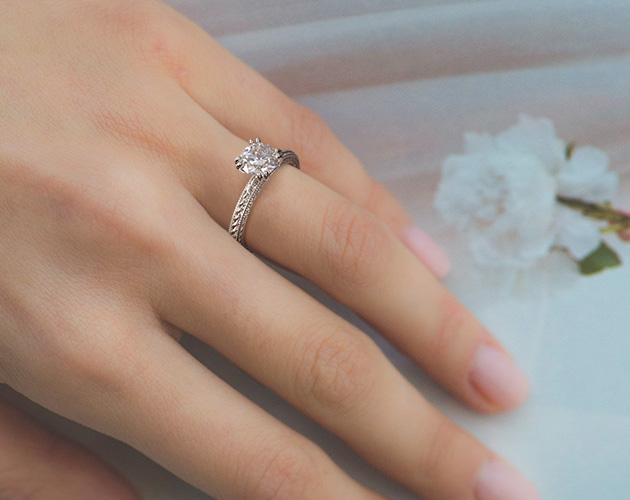 A beautiful and budget-friendly ring, this is one with heirloom quality craftsmanship. It is set in a rope solitaire setting that will make your ring look vintage quality. The simple ring offers FedEx priority overnight shipping too. You have a risk-free trial when you shop with James Allen. The split prong ring is an elegant design that will accent your fingers eternally.
Available Metals:
14K White Gold
14K Yellow Gold
14K Rose Gold
18K White Gold
18K Yellow Gold
Platinum
Price: $547
Want to get yourself a matching band?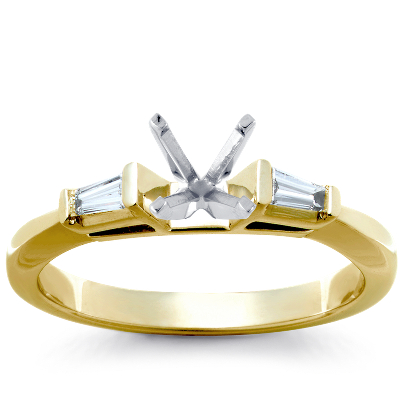 A beautiful design by a credible diamond ring seller, Blue Nile also has three verified reviews totalling a rating of 4.5. Besides the lifetime warranty coverage, this Nlue Nile Hexagon solitaire shows milgrain accents to beautify it even more when you wear it. The hexagonal design has the pro of raising your diamond upwards, making it look more brilliant, brighter and bigger. The ring width is 2.2mm with two round diamonds of 0.01 carat weight on it. The minimum clarity is S12 and the color H. You can set a diamond up to 1.60 in carat weight on this ring or alternate between rose gold and white gold.
Available Metals
14K White Gold
14K Rose Gold
Price: $570
Setting only design that shows six prongs for maximum safety, this petite fit ring glamorous. It is designed with rounded edges for maximum comfort too. The ring can be set with oval, heart, marquise, pear and oval shapes based on your preference. Completely made in U.S.A, prong metal is 14K White Gold. The width of the ring is 1.5mm with rhodium finish.
When you buy from Brilliant Earth, 5% of the profits go directly to charities. This ring is made from recycled precious metals. If you're still wondering, check the dozens of verified reviews of the ring rating it 5 stars.
Available Metals
14K Rose Gold
18K White Gold
18K Yellow Gold
Platinum
Price: $495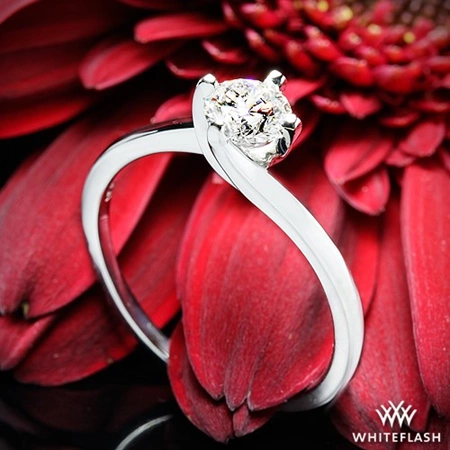 A gorgeous ring that looks elegant with a twist in the center, this Whiteflash ring called Carina Solitaire is an eye catchy design. It is described as a ring for the beloved as that's what Carina means. Set with four prongs in the center, Carina will accent your wrists beautifully. It takes 2 weeks to make this ring!
The width of the ring is 2.30 to 1.40 mm. It can be resized up to 2 sizes. The best diamond to set the ring is round, cushion or asscher with a carat weight of 0.50 to 1.99.
Available Metals:
14K White Gold
18K White Gold
Platinum
Price: $595
Featuring two diamonds, hand in hand, this is a beautiful ring available at a great price. Brian Gavin engagement ring is the best engagement ring that represents love and togetherness. It is set in 2-bypass and you can ask for a different design by calling up the BG customer service directly. This is a Brian Gavin select diamond, meaning it is sourced from outside vendors.
There is a trustpilot review you can check up of the item beneath it.
Available Metals
14K Rose Gold
14K White Gold
14K Yellow Gold
18 K Rose Gold
18 K White Gold
Platinum
Price: $600
Another great pick from an amazing diamond jeweler, this Parcel & Stone ring is perfect for engagement ring and well within budget! The rope solitaire in white is a sign of purity and harmony. It is a great design that offers both comfort and beauty, at once.
Rope solitaire engagement ring is a budget-friendly ring that features round diamond. You have 45-day returns when you buy the item with 110% upgrade policy. Parcel & Stone also offers free appraisals, so you can be sure of your purchase.
Available Metals
14 K Rose, White, Yellow Gold
18K Rose, White, Yellow Gold
Price: $592
Conclusion
Found the best budget friendly small engagement ring? It's not a tough choice. You can browse many small ring designs to suit your budget. Share your total budget in the comments with us and we will personally show you the best budget friendly engagement rings for you!
Which is your favorite from the above?