Looking for the best placed to tie the knot without leaving New York? Perhaps, New York is your dream place to get married! We've compiled the all-time favorite places to marry in New York with all the details including whom to contact with pictures to cut you some slack!
No need to hunt for the perfect place to marry in New York anymore …
Scroll away!
Where are the Best Romantic Places in New York to get Married?
Let's find out!
Source: Rainbow Room
Offering a fairy tale wedding with the St. Patrick's Cathedral and the Fifth Avenue in the backdrop, 620 Loft & Garden also has a sweet garden for a tight guest list. The highly customizable wedding venue in New York is spacey with exclusive vendors to make your special day a big success. 620 Loft & Garden is a part of the rainbow room, which is another great place to get married in New York!
Location: 30 Rockefeller Plaza, 65th Floor New York, NY  10112 USA
Contact: 212.632.5000 (Phone)
Website: https://rainbowroom.com/620-loft-garden
Source: The Plaza, Fairmont  
A great place to get married, Plaza offers a grand renaissance inspired venue to get married. For the ceremony, the terrace is set up at a cost of $12,000 in addition to $350- $375 per head with at least 200 guests. The Plaza offers indoor seating with reception, catering and in-house catering. To talk about the history of Plaza is endless. You will realize it when you see the crystal chandelier from a hundred years ago!
Location: 10022 5th Ave, New York, NY 10022, USA
Contact: (212) 759-3000 (phone)
Website: https://www.fairmont.com/the-plaza-new-york/
Source: Tribeca Rooftop
With a capacity of over 700 guests for cocktails, Tribeca Rooftop accommodates 300+ guests for the indoor wedding ceremony. It can seat 325 and serve 300 guests outdoor too. From a spectacular terrace to high-speed internet, elevator attendants, atrium, pin-spot lighting, and Valet parking, this is the height of luxury to get married in New York.
Location: 2 Desbrosses Street, New York, NY 10013
Contact: 646.558.2396
Website: http://tribecarooftopnyc.com
Source: NYPL
From gala dinners to cocktail receptions, New York Public Library caters to all. It is the best place for your wedding if you're both smitten by books. Civil wedding ceremony in the public library is amazing and easy to host if you're getting blessed by mayor, justice, court clerk, city magistrate, police magistrate or ex-mayor.
Location: Check the locations of NYPL here.
Who to Contact Click here for 8 contact options.
Contact: 917-275-6975
Website: https://www.nypl.org/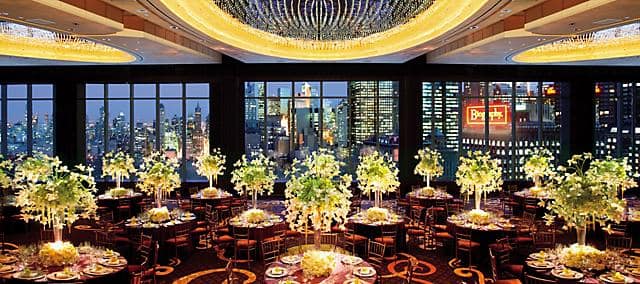 A spectacular hotel to plan your wedding, Mandarin offers a special setting for those looking for wedding venues. From catering to getting the right vendors and decorating like heaven, MO is breathtaking if you're getting married in New York.
Location: 80 COLUMBUS CIRCLE, 10023 NEW YORK, NEW YORK, USA
Who to Contact: Click here to Contact Mandarin Oriental
Contact: +1 (212) 805 8858
Website: https://www.mandarinoriental.com/new-york/manhattan/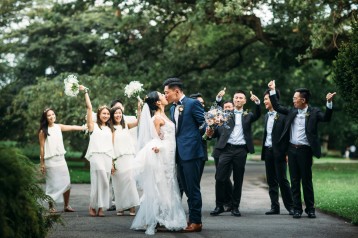 Source: Brooklyn Botanical Garden
Yet another spectacular venue to get married, Brooklyn Botanical Garden is always filled with a diverse variety of flowers. The atmosphere is dewy fresh and the pastoral lawns pave the way to your dream wedding.
Location: 1000 Washington Avenue, Brooklyn, NY 11225
Who to Contact: Click here to Contact BBG
Contact: 718-623-7200
Website: https://www.bbg.org/
If you want a mesmerizing location to have your wedding in New York, Wave Hill is the best place to be stunned by nature. It has a history of over 200 years and excellent for those looking for fantasy wedding destinations.
Location: West 249th Street and Independence Avenue (Front Gate), 675 West 252nd Street, Bronx, NY 10471-2899
Contact: 718.549.3200
Website: https://www.wavehill.org/
Are you a cool couple? Then tie the knot in Brooklyn Winery if you're hosting an intimate wedding ceremony and want the perfect, warm place for it! April to June are recommended best-dates to get married while an open bar with a seating space of 250.
Location: 213 N 8th St, Brooklyn, NY 11211
Who to Contact: click here to contact Brooklyn Winery
Contact: (347) 763-1506
Website: https://bkwinery.com/
This is a special place for a special wedding. Classy and rad, the foundry is carefully designed to make any event best event. The sky-high ceilings and elaborate green leaf-clad walls create an unbeatably pleasant atmosphere.
Location: 42-38 9th St, Long Island City, NY 11101
Who to Contact: Click here to contact The Foundry
Contact: 718) 786-7776
Website: http://www.thefoundry.info/
Before you go …
Did you find the right place for you to get married in New York? Share it with our readers in the comment below.
Read More about Engagement Rings on DPA …