Choosing an engagement ring takes the most time in the wedding planning shebang. The truth is, a poor choice of wedding ring design can destroy the proposal in wink. I've seen it happen. It's dumb and ridiculous, yet real. So, just accept it and surf through hundreds if not thousands of glamourous engagement ring trends if you're classy chic.
Remember, your wedding day is the most important day of your life. The only thing that will remain after the glitter goes is the bling in your ring. So, choose wisely!
9 Trending Engagement Ring Designs For Classy Brides
Be it proposing your childhood sweetheart or looking for an amazing diamond engagement ring, Le Squelette is a sexy and distinct design. It is handmade to perfection with a unique giftwrap design to protect the diamond and provide all-day comfy wear. The snag-free design is one of a kind with striking silhouettes from every angle.
PRECIOUS METAL OPTIONS: 18K Rose Gold
DIAMOND CARAT WEIGHT: 5.50 ct
PRICE: Upon Request, click here to request the price directly.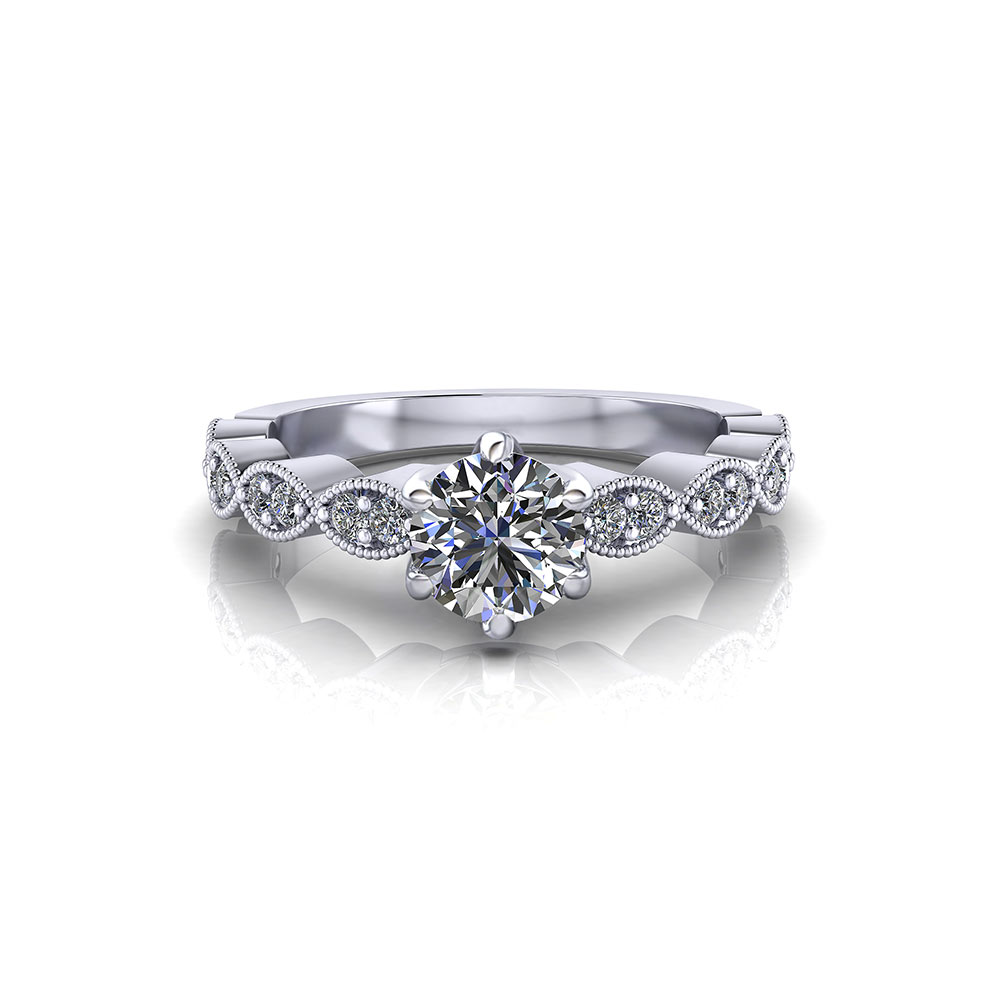 Unique and breathtakingly feminine, this floral 6 prong engagement ring looks like the most dazzling flower from sideways. It is a diamond ring designed in pure white gold to make her say yes. The vintage-inspired design is available for try-on at Connecticut outlet of Jewelry Designs.
PRECIOUS METAL OPTIONS: 18 K White Gold
DIAMOND CARAT WEIGHT: 0.5 ct (center) and 0.16 ct accent diamonds
PRICE: $1,835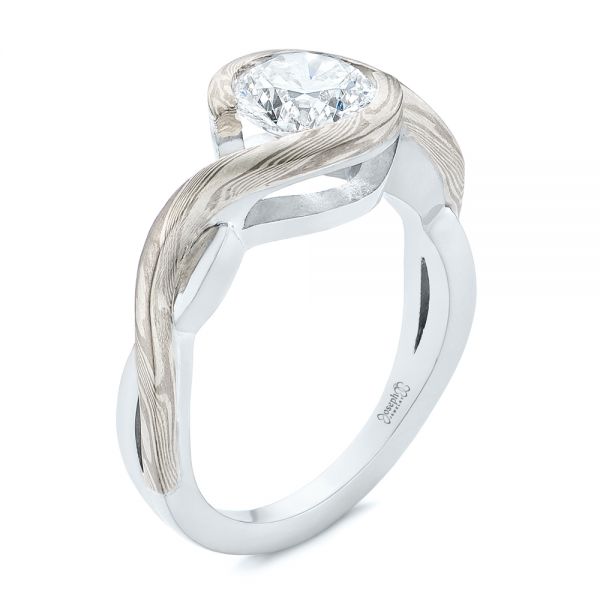 An artisanal design that boasts flattering swirls of mokume gane ( a Japanese Metalworking technique) on platinum. The unblemished look accents your hands and puts the spotlight on you. This is a custom-made ring  in wrap design unique to Joseph Jewelry.
Did you know Mokume Grain is a historic technique to reminisce the oakiness of wood?
PRECIOUS METAL OPTIONS: 14 K (White, Rose, Yellow), 18K (White, Rose, Yellow) Platinum and Mokume Gane
DIAMOND CARAT WEIGHT: 1.40 ct
PRICE: $1,879- $3,500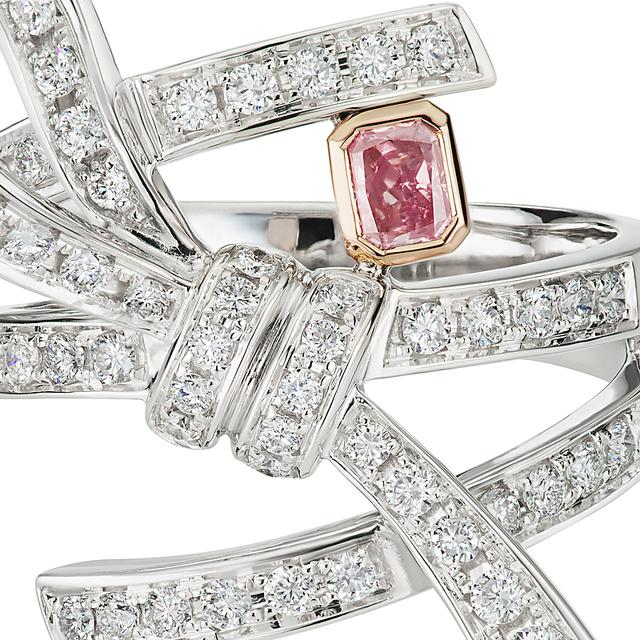 A twist and bow design that sets apart the elegance, Kristin Hanson Ardor Ring is a charm to behold. It flatters your wrists with a shimmer that lasts a lifetime in the eye. Ardor engagement ring is a glamourous design flaunting a petite pink diamond encircled by accents of 1 carat diamonds paved in.
PRECIOUS METAL OPTIONS:  18MK White and Rose Gold
DIAMOND CARAT WEIGHT: 1 ct (White Diamond) and 0.31 (Pink Diamond)
PRICE: $25,000
Set in a dazzling array of blue diamonds and blue sapphires making a symphony of melodius blue, Enchanted Garden is an engagement ring for high maintenance honeys. It softens your fingers and makes you the envy of the party, wherever you go.
PRECIOUS METAL OPTIONS: 18 K White Gold
DIAMOND CARAT WEIGHT: 0.35 cts + 6.99 cts Blue Sapphire
PRICE: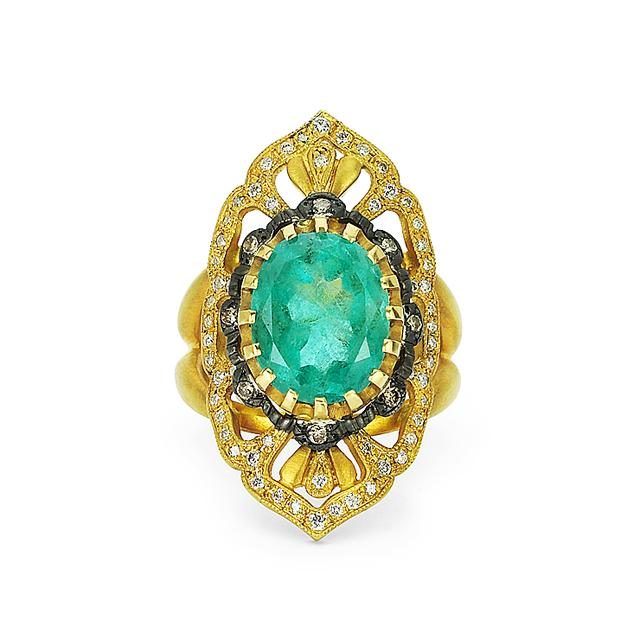 Flaunting an ethereal charm in every design, Suneera is a mother-daughter duo prevalent since 2010. Elizabeth ring is made for medieval mavens with the finest sense in fashion and diamonds. It is a flatteringly gorgeous design showing off centripetal emerald with yellow gold and sterling silver.
PRECIOUS METAL OPTIONS:
DIAMOND CARAT WEIGHT: 5.15 cts Colombian Emerald
PRICE: $17,200
A floral feast for the eye, Luminous engagement ring with 4.25 carats is a shimmering beauty that softly blushes highlights your hands and pops a pretty sparkle to your garbs. The perfect ring to make her say yes, luminous reminisces budding flowers in the dewy dawn.
PRECIOUS METAL OPTIONS: 18 K Yellow Gold
DIAMOND CARAT WEIGHT: 4.25 cts White Diamonds
PRICE: $16,250
Prominent for artisanal designs inspired by vintage clocks, Elie Top gets the galaxy in your finger. The dazzling charm of Pluton engagement ring is baroque accents. One of a kind unblemished design, pluton brings an old-world glamour too.
PRECIOUS METAL OPTIONS: 18 K Yellow Gold
DIAMOND CARAT WEIGHT: 82 diamonds of 0.3 cts
PRICE: $11,145
A killer design flattering for every finger, Femme Fatale is a dramatic engagemtn ring set in gemstones and precious stones complimenting each other in mystic hues. The embellished opal engagement ring is a designer's treasure with its flawless accents.
PRECIOUS METAL OPTIONS:
DIAMOND CARAT WEIGHT: 0.42 ct (White Diamonds), 5.2 ct (Mexican Anhydrous Opal), 0.97 carat (Tsavorite Garnet) and 0.65 ct Blue Sapphires  
PRICE: 16,000
Before you go …
Engagement rings are precious embodiments of your matrimony. You must find a ring that appeases your eye and looks as good as you do.
Loved any of the above? Tell us all about it. Our readers would love to hear your comments about design. Perhaps it will help them choose a good ring!