Gemstones are making the raves as the trending jewelry for nuptials including engagement rings. It is trendy and special. If you select your colored stone and get a necklace made for your wedding, it will make you stand out. Better yet, I have chosen some of the best designs of colored stone necklace for brides to be so that you don't have to hunt left, right and center.
Good luck picking the best!
Why wear a colored stone necklace on your wedding day?
I have found colored stones can be auspicious for marriages. If you choose by your birthstone, colored stones or gemstones can really make you stand out.
Feel free to click on the image to find the original jeweler to buy your item. We love to promote the items we adore. Perhaps you will fall in love with it!
Choosing Colored Stone Necklace for Brides
Bridal necklaces are an accessory to make you dazzle on your special day. If you've already invested in colored stone rings, then get a colored stone necklace that accents your wedding gown and makeup too! It makes you look divine if you pair it right.
Colored stones can be that contrasting dazzle that makes you look like a goddess on your big day, from experience.
Made in 8mm Akoya premium pearls, this cultured pearl necklace with lobster clasp can add the tint of regality to your bridal wear. It is 18 inches in length, set in yellow gold to make you dazzle from every angle. It complements white bridal gown to polish your looks finely on a special day.
The total weight of the necklace is 0.66 grams. It can be paired with a sweetheart neckline and round neck gowns easily. The premium grade pearl has the pristine-most luster that will make the crowd drool.
Metal: 18k YeLlow Gold
Price: $3,650
Set in an oval shape perfect for V-neck and sweetheart neckline of wedding gowns, this sapphire necklace from James Allen is fit for the queen. It has a floral encasing with melee diamonds set in the halo around the oval center stone in indigo.
The pure blue sapphire colored stone necklace for brides to be is a symbol of royalty. It makes you look like a princess on your wedding day if your theme is blue or indigo shade like Princess Diana. You can click on the picture to check the 360-degree video of the halo pendant.  
Metal: 18K White Gold
Price: $1,250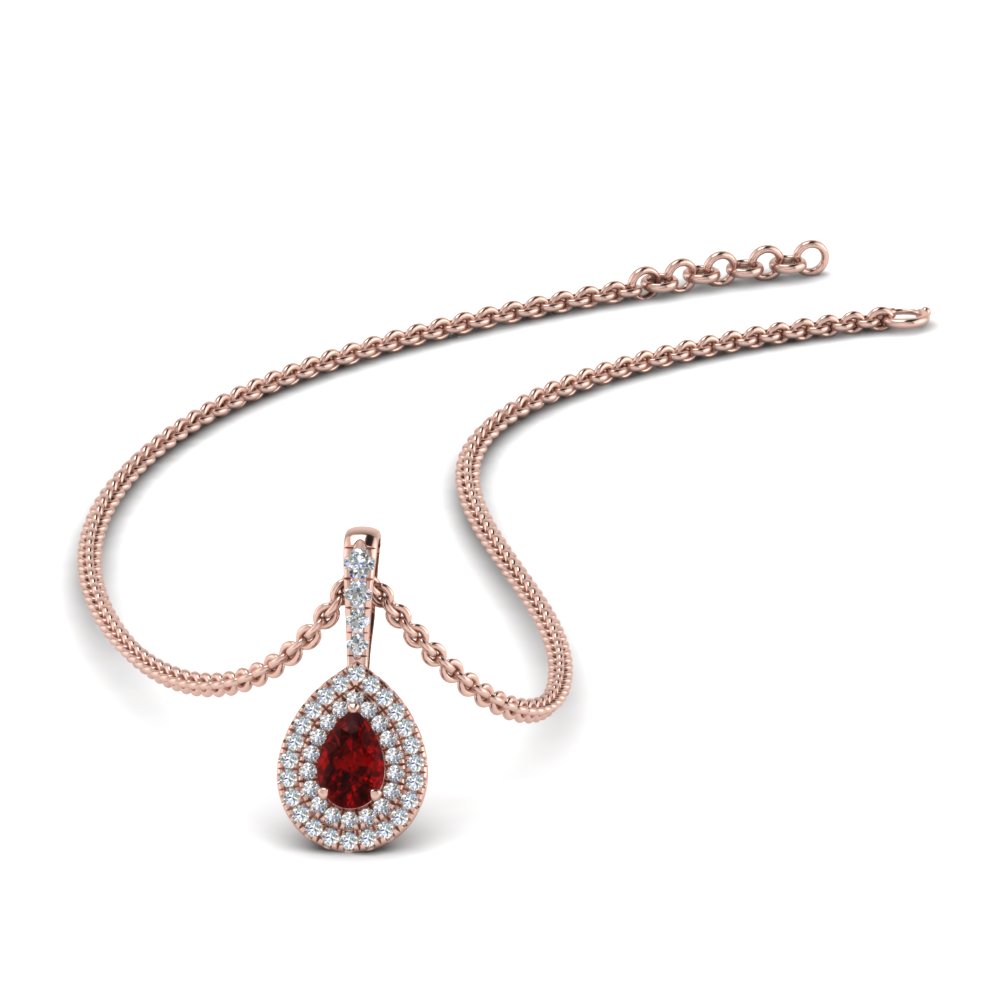 A beautiful pendant in yellow gold, this ruby pear teardrop pendant is reviewed five stars on yelp too from verified buyers. The sapphire necklace is embedded with 0.5 carats ruby and 0.28-carat diamonds with color G. It has a one-year warranty from Fascinating Diamonds (Parent Company- Fascinating Facets).
Added with lifetime upgrade and 30-days return, this ruby pendant can make you look like a Goddess if your theme color is red for the wedding. It's a double-halo, so you will look like an angel!
Metal: 14k Yellow Gold
Price: $1,745
A beautiful tanzanite stone necklace with a halo of brilliant cut diamonds, this tanzanite pendant is an affordable beauty set with 1/3 carat weight of diamonds. The diamonds are of I3 clarity with I+ color. It is cut in a round shape to dazzle around the oval tanzanite in the center.
This pendant will go well with the round neck to V-neck, halter, sweetheart and even high-neck wedding gowns too. The claw set necklace for brides to be in colored stone is a treasure to surprise your ladylove as a gift!
Metal: 10k White Gold
Price: $1,099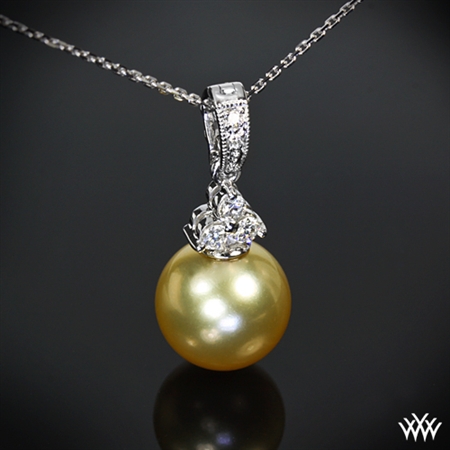 Source: Whiteflash
A mix or royal and gorgeous, this golden pearl is perfect for champagne wedding gowns. It is a classic pendant with colored stones with the brilliance of diamonds surrounding it. There is a 0.20 carat weight of accent stones around the golden pearl.
It has an 11.5mm pearl and diamonds of SI1 clarity and G-H color grade. It stretches to 16 inches and will make you look heavenly on your special day, we bet. There is a 3% discount if you do Wire Transfer too!
Metal: 18K White Gold
Price: $1,495
Before you leave …
All the above necklaces are clearly the elite variety. Investing in a colored stone will save you costs which might be otherwise spent wholly on the engagement ring. Colored stones are special and raving more than diamonds.
If you liked any of the above, don't hesitate to leave us a comment!
Read More Relevant Blog Posts Below