You are looking for the best center stone for your engagement ring that will make it pop out and convey the symbol of your matrimony. Birthstone engagement rings can do that and much more. They are special stones that are precious too. Garnet is a red stone that can highlight your engagement ring, accenting beautifully. If you or your girlfriend's zodiac sign is Capricorn, garnet for January fits the best. Let's find out why.  
Why Garnet?
Garnet is a beautiful stone that has been in use since 5,000 years. It is a stone that is said to support and uplift your traits as a Capricorn. Garnet is also beautiful with pink and red fluorescence under the laser.  A fun fact about garnet gemstone is that it is one that is not mined. Garnet is found just like pebbles along streams!  
What's the Zodiac Sign of January?
Garnet is the best choice for January according to its zodiac sign. It is considered best for people born between December 22 to January 22. For Aquarius, born in between January 23 and February 23, garnet is still a charming stone.
Which are the best Garnet Birthstone Engagement Rings for January?
When we think about a stone for an engagement ring, the drive is to imagine a red stone in the center of your ring. Popular in red, garnet is seen in blue and green too. It's a beautiful stone, so let us find you five of our favorites from DiamondsPeaceArmy approved websites!
Just click on the image or the source underneath the image to go to the original website where you can find the ring for buy. These are truly gorgeous.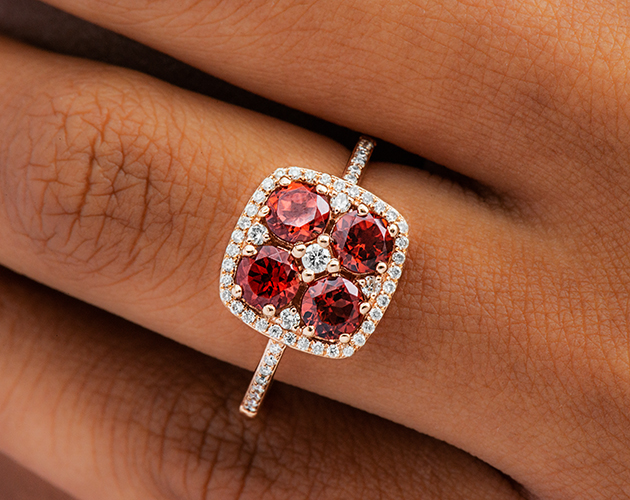 This glistening motif halo garnet ring is a true Victorian beauty worth worshipping. Boasting excellent craftsmanship, this James Allen Ring is set with four garnets of total weight in carats of 1.34 with 57 halo diamonds.
The garnet engagement ring is set in 14K Rose Gold with a bandwidth of 1.4mm. It is a cushion cut garnet ring with diamond halos with 360-degree rotation videos available.
Price of Garnet Engagement Ring: $1,180
Source: Metamorphosis
Celtic rings are all the trend now because they feature the exquisite scrollwork. This beautiful ring in 18K Yellow Gold is made with a garnet in bezel setting held by 4 prongs. The knotwork on the ring that is capturing your uniqueness dates back to 8th to the 9th century!
Price of Garnet Engagement Ring: $2,177.48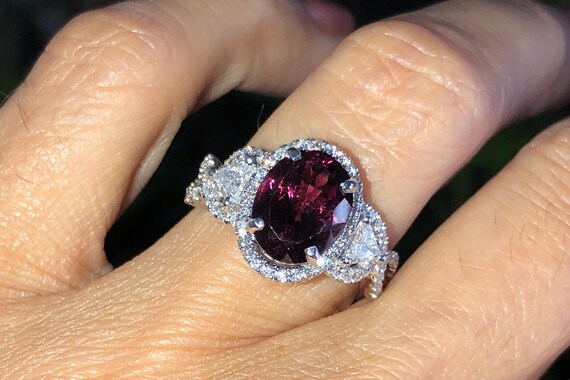 A unique piece on Etsy by PCR with 1057 5-star buyers, this garnet and diamond piece is a real stunner. It glitters and sparkles like the sun with a halo of diamonds. The ring is completely handmade in the art deco setting in 18K White Gold. Weighing up to 7g, this PCR piece can be personalized with two side diamonds and 94 round cut melee diamonds.  
The oval-shaped center garnet weighs 3.16 carats. The store is located in the U.S.A.
Price of Garnet Engagement Ring: $2,750
Source: Diamondere
The double metal garnet engagement ring comes in white gold with rhodium plating. Kelly is a gorgeous garnet engagement ring that features two accents twisting with one made of 32 round diamonds and the other 16 round diamonds. The center garnet weighs 0.4 carats and is reviewed by the verified customer on the website.
What blew me away about the garnet engagement ring is it has 0.85 carats in the total weight of diamonds that is shimmers and makes your fingers elegant with the dial metal color.
Price of Garnet Engagement Ring: $1, 258

Source: Zales
This is a captivating garnet engagement ring with a striking garnet in the middle.  The baguette shape of the central pomegranate garnet has an eye-grabbing inclusion style such that the reflections show imageries. Ain't it beautiful?
La Vian from Zales 0.5 carats of total diamonds in a halo around the center garnet. It is a 4-prong setting in strawberry gold of 14K purity. You will get the lifetime diamond commitment warranty from Zales when you buy!
It is available only in size 7, so hurry!
Price of Garnet Engagement Ring:  $1,599
Before you go …
Called the pomegranate stone, garnet is a special gemstone that glows and glistens beautifully. One way to capture its allure is to set it in the engagement ring, especially if the wearer is a January babe. Choose from multiple settings before you choose your loose garnet gemstone for the ring.  
Want to Explore more about Engagement Rings? Click on the topic below …