You know why engagement rings last a lifetime, right? While a good number of people believe its bad luck to just take it off! However, the logic is in selecting a ring that will complement your style boldly forever until death does you apart. That's why it is good to stay open to new trends in engagement ring styles. Check our 5 crazy colored gold metal Engagement Rings in Green, Blue and Pink colors that are making the raves. When you finally look at them, you will realize why!
Why should you go crazy when you pick the engagement ring?
It is best to wake up your mind, think about the 4Cs of diamonds in addition to Comfort when picking an engagement ring. You have to think about all the dresses you wear, check the ring out at different angles, in addition to different lights and colors. Does the fluorescence make you look like a Celtic queen? It's new, so you might as well be the Rock 'n' Roll Queen.
Go crazy because you can pick the engagement ring just once!
5 Crazy Gold Metal Engagement Rings in Green, Blue and Pink Colors
As innovative designs are overtaking fashion across the world, women are falling in love left, right and center with colored gold. This is just the tip of the iceberg, so gloat your eyes on the Gold Metal Engagement Rings in Green, Blue and Pink we picked for your eyes only.
Stunning and minimalist, Celtic wedding band in black gold is a striking piece. The one of a kind ring for men from DiamondDere also offers Free engraving and Free resizing within 100 days for every customer. It is rhodium plated for the gorgeously gothic look. The affordable wedding band offers 10K, 14K and 10K options for gold colors. The band width of the ring is 6.5 mm.
Available Metals: Black (10k, 14k, 18k), Rose (10k, 14k, 18k), Yellow (10k, 14k, 18k) and White
COST: $701
A set of wedding rings in black gold and red gold, London Exclusive presents daring engagement ring designs. It was first sold in London and emanates ridiculously romantic vibes. The wedding band is made in 14K red gold weighing up to 3.0g, which is coated with a red colored ceramic rhodium coating. It is also encircled with 17 round melee diamonds around the ring.
An iconic shade made for high-maintenance honeys, Caravaggio Red Gold Wedding ring is a standout addition to any wardrobe. It contrasts to highlight and beautify your fingers.
Available Metals: 14K Red and Black Metal Gold
COST: $2,799
A designer grade heirloom jewelry, Art Masters Green gold ring comes with a pink sapphire in the middle. Traditionally, it attracts marital bliss and improves on a classic design. Handmade to perfection, Art Masters Green Gold ring was released at JCK, Las Vegas. There are 40 melee sapphires besides the center stone in pink.
Packed and sent in a memorable jewel box, the green gold ring is a distinct and edgy choice for your wedding ring. All the sapphires on the engagement ring design are grown in laboratory artificially.
Available Metals: 14K Green Gold
COST: $3,399
A shade almost never seen in shops online for diamond engagement rings, Modern Antique by Art Masters is a flatteringly feminine piece. It spins you back in time to the era of shimmers and Armenian elites in 65 BC. Bringing alive a striking blue for metal, Art Masters Turquoise Blue Engagement Ring in Sapphire is a solitaire setting.
Blue and pink emanate a yin-yang union making your style complete without compromising on your coziness.
Available Metals:  14K Turquoise Gold
COST: $3,499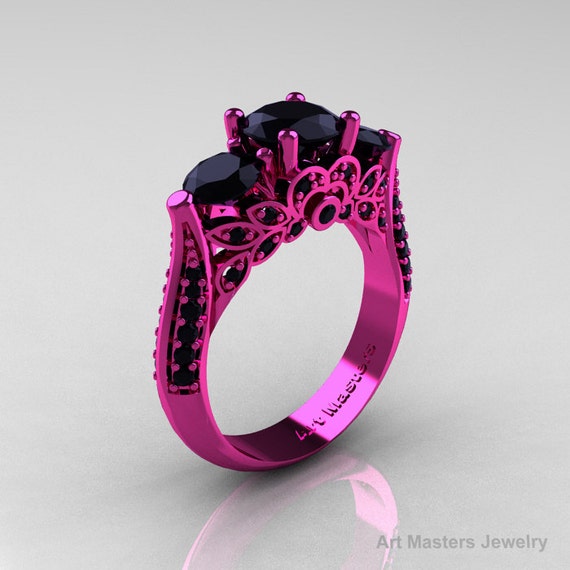 Ornate and impressive, three stone black onyx on pink gold metal is a bold style for women with a trendsetting sense of fashion. It is fresh to the eye, unique and set in 14K gold to stand the test of time. You can wear it anywhere as the bold colors are designed to flatter your fingers.
Classic design upgraded with a chunky whiff, Pink Gold Three Stone Black Onyx is an engagement treasure to take pride in. It is a designer ring made of vintage vixens who want to dazzle their audience.
Available Metals: 14K Gold
COST: $2,899
Before you go …
Handmade engagement rings are custom rings made to symbolize your love and matrimony. Choose it with care, but choose it with ridiculously romantic love too. You have to wear it forever right, why not go full swing and get your dream on your finger, RIGHT AWAY!