Platinum and gold diamond solitaire rings are getting popular by day. Couples want their engagement rings designed with solitaire diamonds. It is the late 19th century that features most of the diamond solitaire engagement rings in history. Today we will learn all about
What is a Diamond Solitaire Ring?
When a ring is made with but one diamond in the center. Be it a 1ct solitaire diamond or 2ct solitaire diamond ring, this is a hot-trending design. Diamond solitaires are rings made with just one stone so that the spotlight falls in the center. Technically, solitaire is a diamond mounted on a plain band.
Currently, not all solitaires are made with just one stone in the center. You will see halo and pave set channels of melee diamonds (small diamonds) around the center stone making it brighter and attractive.
Pros of a Diamond Solitaire Engagement Rings
Why buy solitaire diamonds? What's so good about them? We've listed them all below!
· Cheaper than Multiple Stones
Solitaire diamonds are cheaper than their halo or three-stone rings. You don't have to invest in multiple diamonds, just one. Save on your engagement ring and add it to the wedding band!
· Perfect for any Wedding band
Solitaire diamond rings are the easiest to complement with any wedding band, be it a classic or just a fancy new design.
· Ideal for Buying Loose Stone
If you're a true diamond lover, you might want to buy loose stones first. It saves a ton! With a solitaire ring, you don't have to pick multiple stones; one will do!
· Easy to Upgrade or Renovate
Solitaire rings are designed with enough space for add-on diamonds and designs. In short, modifying the solitaires are easy. You can add extra bling whenever you want.
· Setting is always Higher than average
The Solitaire diamond ring pops a pretty color to your fingers. It is always set or mount at a setting that gives it a projected look and brighter shine. You can stack rings with it, even popping out wedding bands with three stones.
· Easy to Clean, Maintain and Store
When you buy a solitaire diamond, you sign up for a lifetime of hassle-free maintenance. You don't have to get it professional cleaned, but in every 2 years because the solitaire diamond does not have many haps and crevices.
· Minimalist and Simple Classic
You can wear it anywhere without clashing with the style or dress code. Solitaire engagement ring is a classic design that has stood the test of time for 200+ years, it can be accessorized with your casual wear, office wear or party wear, effortlessly.
Cons of a Diamond Solitaire Engagement Rings
Are solitaire rings only good? What's bad about solitaire diamond rings? Hold your horses, we're about to find out!
· Magic Carats are Expensive
When you pick a solitaire, too small might look insignificant. However, going for magic carat solitaire might make her say yes, but it will come at a heavy price tag too!
· Run of the Mill Rings
Solitaires are simple and easy rings that every jewelry has in tons. If you're looking for something unique, solitaire diamond rings might not be for you.
· Solitaire ring Snags Easily on Fabric
One of the little known things of a solitaire is that because it is set high, it is easy to snag the ring and the diamond in your cloth and other fabric around.
· Loose Prongs can Slip the Diamond out
As the prongs are set high holding a giant diamond, it needs to be tight and at its best. Loose prongs can lead you to lose your diamonds too. Always go for a professional check when you're wearing solitaires every year or six months.
Top Three Fabulous Diamond Solitaire Engagement Rings
Looking for the best Solitaire rings to wear in 2019? We've got three fashion-favorite designs from credible online jewelers.
This is a special edition solitaire diamond ring from Ritani. Made in 14K White Gold with 2.00 carat diamond in the center. Gorgeous right?
Price: $8,074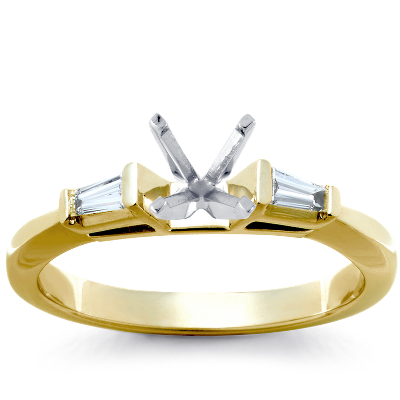 A beautiful French Pave with 0.70 to 0.79 carat diamonds, this is a contemporary solitaire that accents your fingers.
Price: $4,122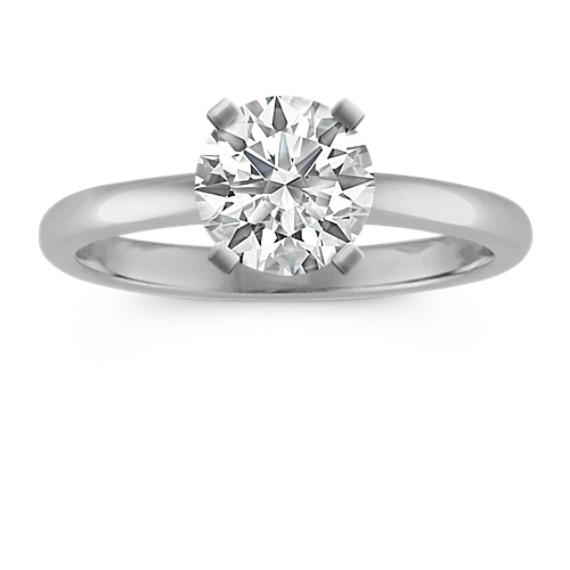 A simple and affordable solitaire, this solitaire is 2mm wide. You can choose the metal to central gemstone on the official ShaneCo website.
Price: $350
Verdict …
Solitaire is an amazing setting where you can bring the highlight to exclusively the engagement ring. It is a classic and traditional design with many pros. Do you want a solitaire diamond ring for engagement? Share in the comments below!
Read More about Engagement Rings on DPA …