Halo engagement rings on hand look amazing. It is the hottest trending engagement ring design in the last decade, getting hotter every day. If you're interested in halo engagement rings, you need to know the pros and cons too.
From being snaggy to making your central stone 1 carat bigger, halo engagement rings have many good and bad. Ready to know them?
Start scrolling …
What are Halo Engagement Rings?
History of halo rings began during the Art Deco time in the 20s. They were a favorite and has once again been revived in our time. Halo engagement rings are filled with bling to make your ring look huge, for starters.
Halo engagement ring meaning is that they are rings with one central diamond and a halo of tiny stones circling it. There are many things about a halo that makes it symmetrically appealing. Let's find out!
Parts of a Halo Engagement Ring
What does a halo engagement ring contain? If you're planning to buy a halo engagement ring, looking over the main parts of halo rings are important.
· Center Stone of Halo Engagement Rings
The first part of a halo engagement ring is its center stone. It can be in any shape, cut or clarity you wand. The center diamond or gemstone in the halo engagement is the highlight. Hence, picking a good center diamond with care is important.
· Side Stones on Halo Engagement Rings
When you're designing a halo engagement ring, there are tiny stones that channel the halo around the center stones. These are smaller diamond you can pick with lesser quality or cut. Side stones must be cross-examined with the sparkle of the central diamond.
· Color of Stones on a Halo Engagement Ring
What color do you want your ring to me? If you're going for a colored diamond, you have the option of yellow, champagne to pink and black too. Besides, you can get a colorful gemstone for the center stone and combine it with tiny diamonds on the halo.
· Number of Halos on your Halo Engagement Ring
The best thing about halo engagement ring is that you can add to the halos. You can increase it to one or two as you wish. It is not uncommon to see even 4 halos these days if you're all about the bling.
· Pave stones on shank of the Halo Engagement Ring
On the metal band called the shank that are shoulders of your central ring, you can channel melee stones again, for added sparkle. It creates an outline for your halo that is unconventional.
Types of Halo Engagement Rings
With the pass of time, halo rings have grown drastically in popularity. That's why we have so many varieties of halo engagement rings nowadays. Let's find out the one you love the most!
· Twisted Halo Engagement Rings
The first type of halo engagement ring is the twisted halo ring. Here, the halos are two and it is twisted or intertwined with each other around the central stone. These are aesthetic and expand the curves and sparkle of a halo.
· Floating Halo Engagement Rings
This is a unique setting where the halo is set immediately below the central stone, not equally in line with it. Jewelers claim it makes the diamond look larger than it originally is. Floating halo rings have what is called an 'airline gap' between the central diamond and the halo.
· Double halo Engagement Rings
When you have two strands of halo around the engagement ring, it is called a double halo engagement ring. You can increase the number of halos to as many times as you wish!
· Pave stones on shank of Halo Engagement Rings
We described channeling the shank with stones, one such way to do so is with pave stones. On a halo ring, you can add pave stones all through the shank to its bottom to complete the circle.
· Shapes of Halo Rings
Another new trend among wearers of halo rings is how the central diamond is in a unique shape. You can choose from pear, round, square, marquise, emerald and cushion cut to state a few.
· Split shank Halo Engagement Rings
When the shanks split into two towards the center of the ring, it becomes two strands. This is a unique and trendy new take improvised on the classic.
Pros of Halo Engagement Rings
Are halo rings worth it? What's so good about halo engagement rings? What makes it special and popular? Are halo rings really pretty? Can they make your diamond look bigger? Hold your horses; we're about to find out!
· Center Stone looks 1 carat bigger on Halo Engagement Rings
The best thing about investing in a halo engagement ring is that the setting makes your central stone at least a carat bigger. Are you shocked? This is due to the optical illusion of the surrounding diamonds outlining its shape!
· Sparkle of the stones together on Halo Engagement Rings
Depending on the size of your ring, there can be dozens of diamonds, tiny ones that adorn your halo ring for engagement. Together they will reflect the light on and off the center diamond in a synchronized fashion. You'll love it!
· Save on a Smaller Diamond with Halo Engagement Rings
When you're getting a halo ring, it is wise to settle on a center stone smaller than you want. That's because halo rings have the ability to make the ring bigger. Therefore, you can spend lesser money on a small diamond and still get a diamond that looks bigger than what you spent!
· Want her to say yes? Get a Halo Engagement Ring!
Do you want to take her breath away when you propose? Then, halo engagement ring is the way to go. It has an amazing bling and a big impact on the person. Anyone who looks it at will compliment her and admire the ring, you bet!
Cons of Halo Engagement Rings
From being too popular and trendy to too gorgeous, halo engagement ring is burdened with a lot of cons. What are the disadvantages of buying a halo ring for engagement? Here you go …
· Center Diamond can Loosen in a Halo Engagement Ring
In floating halo engagement ring, the central rock sit above the halo, making it easy to lose the diamond as it doesn't have prongs. Be careful if you're investing in a halo ring. In fact, there are just too many stones to track on Halo Engagement Rings other than the center diamond too.
· Halo Rings Snag on things
Another biggest con of halo diamond rings is that they often snag on fabric and pop them up. You will find it hard to do other handiwork while wearing this ring. It is disruptive and restrictive. That's why it is wise to take it off before you begin your work.
· Halo Engagement Ring is Hard to Clean
Being a high-bling ring, the biggest problem with buying a halo engagement ring is the maintenance. It is high-maintenance no doubt. You will find it hard to clean with a routine cleaning and might have to drop by for a professional cleaning every 6 months.
· Poor trade up options for a Halo Engagement Ring
Resell value of halo rings are low. Do you know why? That's because there are many tiny diamonds in a halo ring that brings down the value of the total diamonds. They might be of lower cut and clarity than the central stone. So, if you want to upgrade or sell your ring, you might not get as much value as you paid for. The most expensive thing in a halo ring is the craftsmanship.
5 Halo Engagement Rings to Try Today
What are the most popular hallo ring designs in 2019? We are about to find out FIVE amazing designs of halo engagement rings from 2019's most credible online jewelers. You ready? Click on the source link under the image to proceed to buy the gorgeous ring from the original website directly!
A gorgeous ring, this cushion halo from blue nile has a magic carat diamond in the center with a width of 2mm. It is set in platinum!
Price: $7,790
One of a kind halo ring, this 3-row pave ring is stunning in 14K White gold with 0.60 carat weight of total diamonds! The center diamond is cut in the emerald shape.
Price: $2,500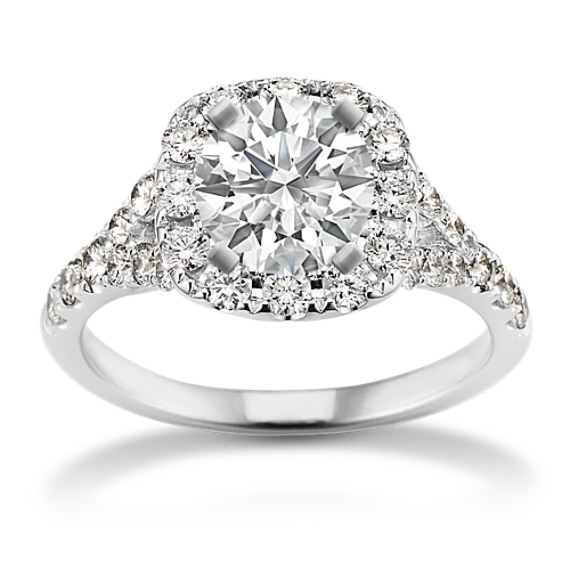 Yet another gorgeous halo ring, this from ShaneCo can be changed to other shapes, gemstones except metals. The total carat weight of the stones are 0.91. The round centered diamond is a cushion cut.
Price: $2,475
Gorgeous and spectacular, the central Morganite is oval. You can opt for 14K yellow gold, 14k white gold or platinum too.
Price: $1,209
Very little is known about this ring. Why don't you Arrange Viewing by clicking here.
Verdict on Halo Engagement Rings
Get a halo ring with rim to prevent it from snagging or go for a platinum bands as it holds better than white gold. Halo rings are glamorous even though some think they have too much bling or are tacky. We love it! It's the mark of our era …
Do you?
Read More about Engagement Rings on DPA …