The diamonds are not the only best friends of girls anymore. Girls love color as much as the bling. So today's post, we will dig into all those colored stone jewelry for brides to be. I have picked the favorite and the most dazzling ones from reputable jewelers. Let's begin the hunt for the perfect one that matches your special day.  I have found five best-colored stone ring
Why Colored Stone EngagEment Rings for brides?
There are two types of colorEngagementfor brides commonly worn for a wedding. Diamonds are the first choice as champagne-hued diamonds are still trending as engagement rings. But if you want something more unique, going for the trendy precious and semi-precious stones in colored gemstones is always the best stones. It has unique patterns and comes at a lesser cost than diamonds too!  
Our Favorite Colored Stone EngagEment Rings
Colored stone rings Let's find that amazing colored stone engagement rings that are HAWT right now! They can be chosen based on her birthday to make it super-special too. They have a unique sense of appeal when compared to diamonds. Besides, there's a whole range of metaphysical properties of gemstones contested at present too.
Don't hesitate to click on any of the images of the jewelry you like as it redirects you to the main website you can directly buy it. We are promoting the ones we truly adore!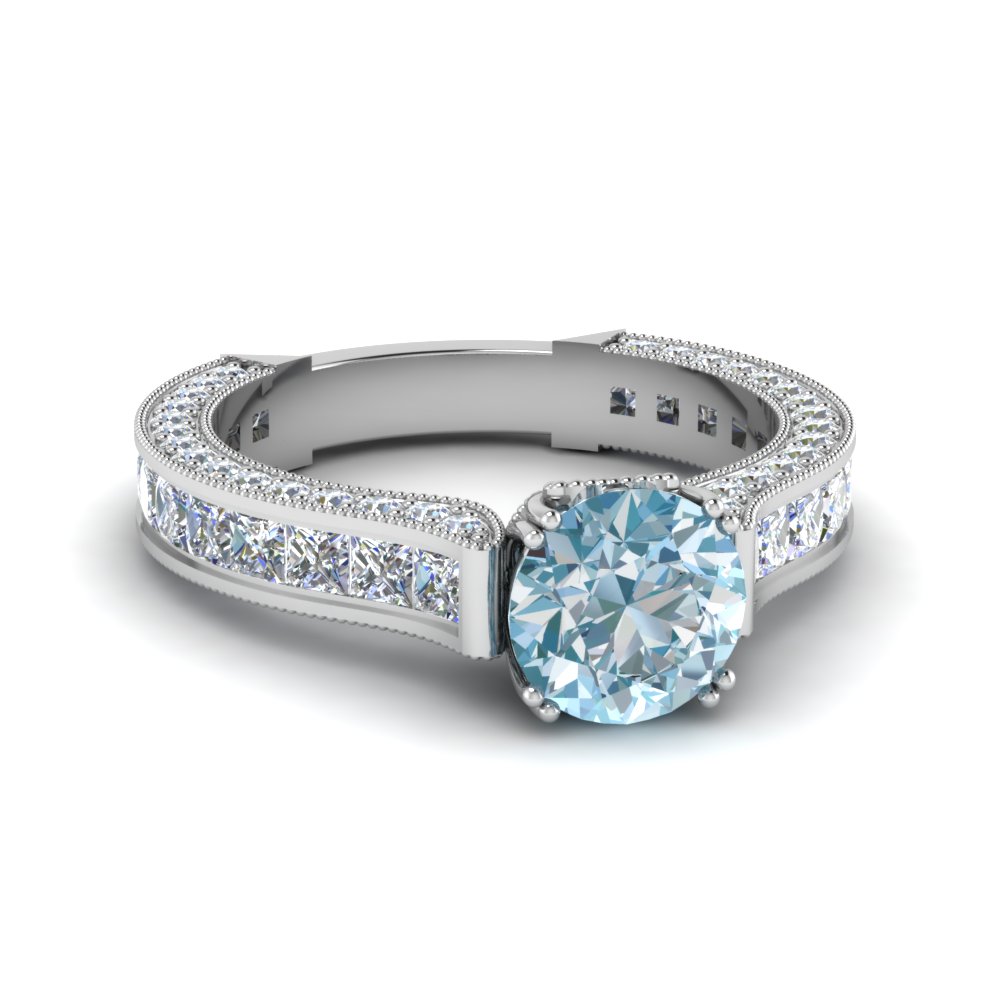 With a total carat of 2.35, this aquamarine engagement ring has 83 stones and actually gets delivered in 5 days. It is a mix of aquamarine and diamonds, but you can change it with blue sapphire to Emerald, Pink Morganite, Ruby or Pink Sapphire.
There is a verified review of the ring besides Layaway plans starting at $350+ per month. This sweet colored engagement ring comes with a one-year manufacturing warranty too. What I loved most are their detailed images that show the artisanal beaded setting along the pave set accent stones.
Available Metal Choices
14k White, Yellow and Rose Gold, Platinum and 18K White, Yellow and Rose Gold.
Price: $4,046
A handmade colored stone engagement ring from Bigham, this Pink Sapphire ring is a beauty with 10.18-carat oval center stone. The huge bling is dazzling and accent diamonds of 125 with a total carat of 1.52. I love this unique setting because it is chosen for an elegant appeal. If you love the oval cut huge center stone, this is a stunning one not to miss out.
Available Metal Choices
Platinum
Price:
Upon Request. Click here.
The birthstone of those born in December, Tanzanite is a beautiful gemstone in the indigo color. This ring has 0.5 carats in total weight with claw setting. It has round diamonds as accents and a pear-shaped tanzanite as the center stones. The double halo around the center stone dances with the brilliance of the fiery melee diamonds too. It's a beautiful ring that will make any December born say 'yes'.
Click here to see the matching earrings that go with it!
Available Metal Choices
14K White and Rose Gold
Price: $1,999
Called, 'The Edith', this masterpiece is a handmade ring of endless charm, it must be in a museum of beauty. The antique patina on the 14K white gold ring is carved with artisanal brilliance to make the emerald colored stone in the center stand out.
The full cut diamonds on the side sparkle with a brilliance that accents the fingers and make it look elegant. It has 1-carat emerald cabochon and 0.60 total carat of diamonds.
Available Metal Choices
14K White Gold
Price: $1,829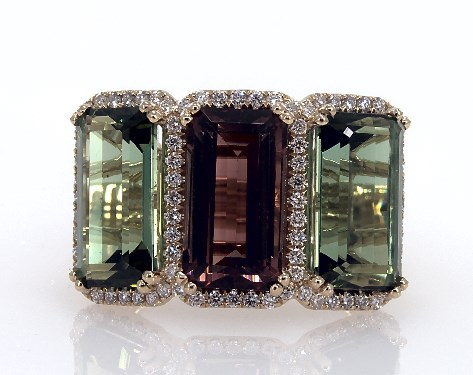 This is an envious ring that boasts three faceted stones of tourmaline, two green and one pink in the emerald shape. It weighs 12.30 carats in total and is a ring that will make any girl say 'yes'. The careful craftsmanship is done on yellow gold with 78 diamonds accented around the three-stone ring.  
I was smitten by the round diamond and how it played with brilliance on-screen. As they have a 3600 video of the ring, you can see the brilliance under regular light.
Available Metal Choices
18K Yellow Gold
Price: $4,800
Before you leave …
Finding the best ring for your engagement is important because that's the ring which will stay on your hand, all life long. Choose wisely because it's once in life-time jewelry. Which is your pick? Share it with us in the comments below!
Read More Relevant Blog Posts Below