Vintage jewelry doesn't necessarily mean antique rings. If you don't know the difference, spare five minutes reading the below and you will know. I have compiled a simplified definition of vintage rings from antique rings as well as the benefits of choosing vintage. You will also find our five favorite vintage engagement ring designs towards the end. Let's find out all about vintage ring for your engagement ring.
What are Vintage Rings?
A vintage ring can be an antique ring, but not all vintage rings are antique rings. Jewelry made 100 years and above are called antique rings. The price of antique rings can fluctuate based on where you shop.
The second type is also the most common type of vintage rings. These are rings made as a reproduction of a ring design from earlier era. Jewelry experts also call jewelry older than 20 years as vintage jewelry. There is another type of jewelry called estate jewelry that have been used prior to sale.
Why Choose Vintage Ring as your Engagement Ring?
Wearing vintage engagement ring is a matter of pride and price. If the blushing bride is smitten by an art deco or Victorian ring designs, it is best to let her choose her pick. They are charming and special designs that are not seen every day. Vintage rings increase in value over time too. To find out all the advantages of vintage rings, scroll away.
·      Heirloom Quality
Vintage rings are precious jewelry. It can't be just picked off a shelf and often has to be custom made. That's why vintage and antique jewelry are called heirloom quality jewelry. They can stand the test of time without tarnish. It can even be passed down from one generation to another as heirlooms!
·      Sentimental Value
When vintage rings are made from older jewelry, it has an unconditional sentimental value associated with it. Vintage engagement rings can be a memory of your grannie or grandpa and so on too. Moreover, the rich patina of a vintage ring for engagement makes it look warm and richer than it is.
·      Unique Design
One of the unbeatable pros of vintage rings is the design. You can create a completely unique ring that doesn't look like the current trending baubles. Your choice of vintage ring might be the world's last such piece. However, if you're reproducing the jewelry from an earlier era, you can add unique improvisations to make it unique.  
Which Vintage Ring Sellers Online are Stunning
I have filtered through 25 credible ring sellers to find the selection of vintage rings below. If you like any, don't hesitate to click on the image or title of the item to head directly to the main site where you can buy it.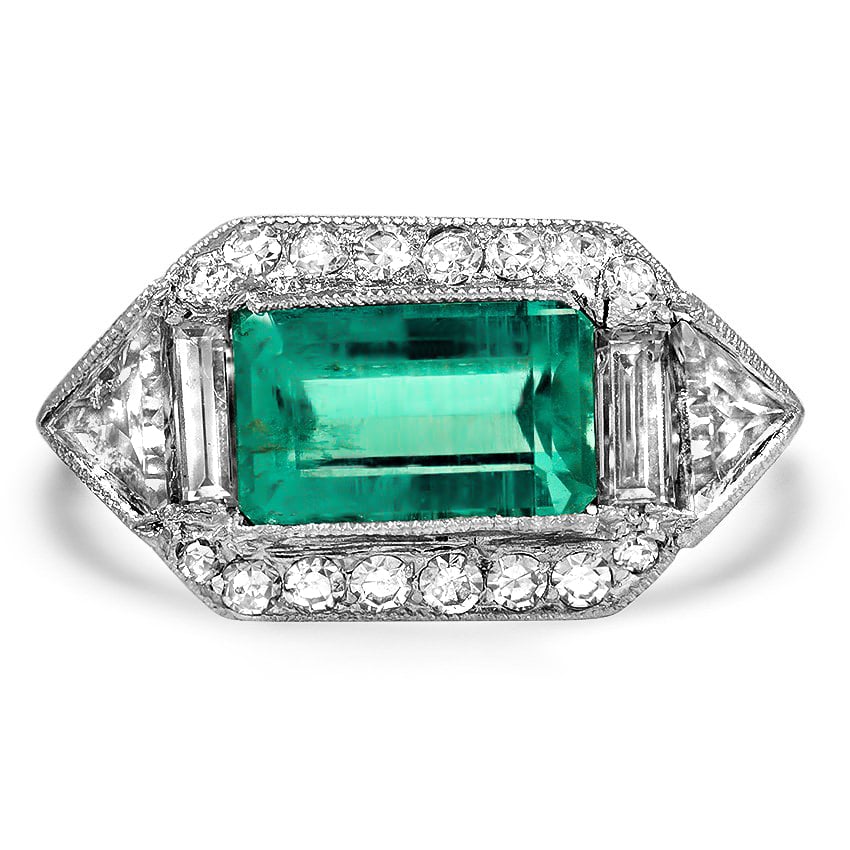 Called the Sedlow Ring, this stellar piece from BE is a design you can trust. Inspired by the art-deco designs, the central emerald is EGL certified. Besides triangular diamonds on either side of the emerald, the center stone is encircled by melee diamonds. Total diamond weight comes to 1.18 carats and the emerald weighs 1.25 carats. The ring is set in platinum with not more than one available.
Price is set at $9,650
Wanna know more about Brilliant Earth in detail, click here.  
Yet another Art Deco ring set in Platinum, this Doyle & Doyle ring comes with an EGL certificate. Set in sapphires and diamonds weighing 0.69 carats, this is a minimalist yet feminine design fit for a princess. The Doyle and Doyle ring also shows round brilliant cut diamonds on the shank of the ring. The sapphires are dazzling because they are caliber cut.
The price of the ring is $5,450
One of the investigate diamond sellers by DPA, Vintage Diamond Ring is a Victorian era design. The central diamond is a Victorian mine cut weighing 0.15 carats. Set in 14K Rose Gold, the ring looks effortlessly gorgeous with an antique allure. The diamond has H color with VS2 clarity. A design that dates back to 1900s, this is a petite and minimalist ring that blends with any style. The intricate artwork on the ring is a proof of that!
It is priced at $1,500 USD
Click here to read more about Vintage Diamond Rings.
Before you go …
Choosing the ring is important to make her say yes. It has to have a personal, traditional and unique symbol of your love to blow her mind when you finally pop the question. Are you smitten by vintage rings for engagement? Tell us in the comments below!
Read More about Engagement Rings on DPA …