I love big diamonds and never have I ever said: "Go for the smallest rock" unless I was treating myself. That's why it is always costly to take your girl out to buy the jewelry. What can you do to make your diamond on the engagement ring look bigger than it is? Try my expert tricks right away!
11 Ways to Make your Diamond on the Engagement Ring Look Bigger
Can I make my engagement diamond look bigger? Are there smart tricks to do that? What is the secret method to make the diamond ring look big in 5 minutes? For all you smart ladies out there, I have tried and experimented with many ways to finally find ways that make your diamond on the engagement ring bigger. Scroll down and learn in FIVE minutes!
1.      Slim Band for the Engagement Ring
Choosing a slim metal band with respect to the size of the diamond can make it look bigger. Just compare a wide band with your diamond to see the difference. You can also choose a wide band that slims down towards the center of the stone.
Buy this Ring for $690 on Brilliant Earth here.
2.      Halo Settings Make your Diamond on the Engagement Ring Look Bigger
While Solitaire rings can make a big diamond give the spotlight it demands, halo setting can make your small diamond rings look bigger. Moreover, you can cut the total cost of buying a large carat flawless diamonds when you buy a medium stone with tiny diamonds.
Another option to consider is Cluster setting that enhances the look of the diamond with smaller diamonds encircling it.
Buy this Ring for $3,365 from Kenny Gando here.
·        Thin Prongs for the Diamond on the Ring
Using little or no prongs are the golden rule to make the diamond look bigger on your engagement ring. Even if you want your diamond to go solo, thinning down the prongs can make your center stone look bigger. The impact works because you see more of the stone than the metal.
Buy this Ring for $420 from James Allen here.
3.      White Metal Band VS Platinum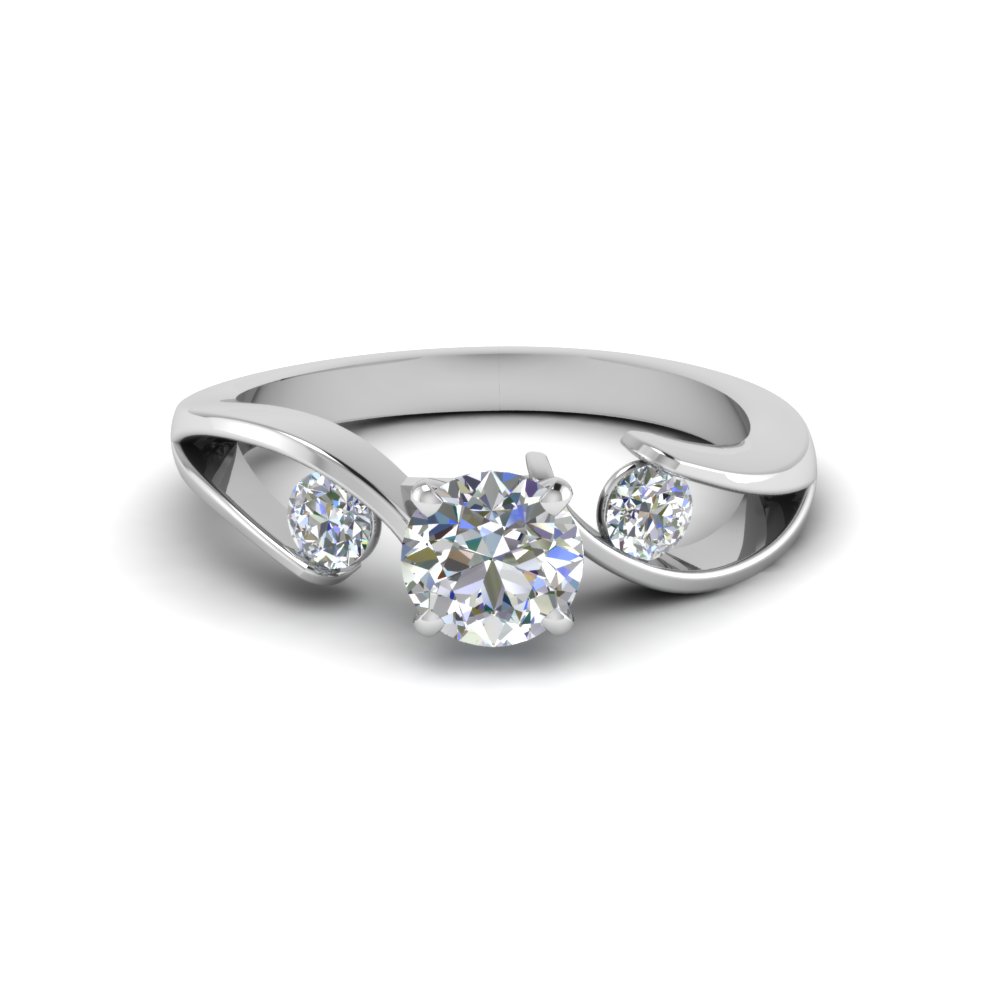 Platinum is royal. Agreed. But, you know what is really shiny? 18k white gold. Yes, you read it right! The cheaper white metal amongst noble metals, white gold is often coated with rhodium to protect the metal. This, however, adds to the mirror-like quality of the band making the diamond look bigger owing to mirror-like reflections.
You've certainly seen mirrors in small rooms added to make it look bigger, right? It's the same theory in practice here!
Buy this Ring for $2,476 from Fascinating Diamonds here.
4.      Say no to Cushion Cut Diamonds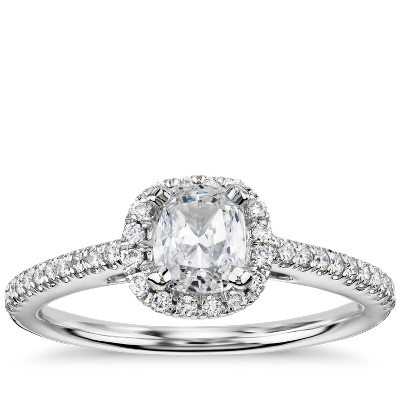 Just as saying yes to ideal cut is important to make the diamond look bigger, cushion cuts shrink the size of your rock. This is because cushion cut diamond is set deep into the prongs where the bigger half of the rock keeps submerged under prongs. You need bezels to uplift the stone out!
Buy this Ring at Blue Nile here.
5.      Tiny Sidestones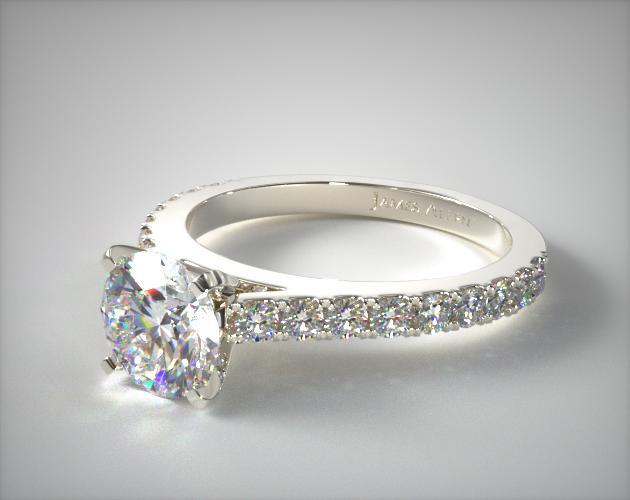 Another rule of thumb to make your engagement ring look bigger is by encircling your center diamond around melee stones. These are what halo setting great, but you can add it to any shape of the diamond too. Moreover, when you go for small or tiny diamonds, they fare better on the bill than a large magic carat diamond.
Buy this Ring for $1,500 from James Allen here.
6.      Colored Gemstones around the Center Diamond
Fancy diamond designers know all about the tweaks to make your tiny diamond look like the diva who demands the spotlight. All you need to do is buy colored gemstones to set with your diamond on the ring. It will accent the central diamond and save you thousands of dollars. Better yet, choose the gemstone based on your birthdate to find the right stone for your zodiac.
Buy this Ring for $4,650 from Ziva here.
7.      Split the Wedding Band from the Engagement Ring
If you want your diamond ring to look elegant or bigger, it is best to avoid another diamond solitaire or single stone wedding band. Instead, split the ring and wear each on a hand. You can also add multiple bands of rings under or above the diamond ring like a DIY halo to enhance its size!
Buy this Ring for  $3,550 from Birgie Diamonds here. 
8.      Mirrors on the Base of the Diamond
There is an advanced way of executing a diamond design that inflates the size of your diamond on the wedding ring. All you need to do to make this optical illusion is to make the metal at the base of the diamond mirror-polished. It's simple and easy!
Buy this Ring for
Before you go …
Other ways to make your diamond on the engagement ring look bigger is going under the natural light after using one or more of the trick above. Do you know any such tweaks? Tell us in the comments below!