The wedding season is here already! With the end of winter, there are new and unique styles of engagement rings for brides and grooms of 2018. Diamonds to gemstones and colored metals in floral and silhouette fancies for engagement rings are our forte. We picked the best diamond and metal engagement rings making buzz this year for your special day!
11 Hot and Popular Styles of Engagement Rings in 2018
Choosing an engagement ring is not easy. Depending on your total profile a personality, choose from styles of engagement rings in 2018 that are gorgeous and downright special. Our diamond gurus have given their stats; explore now!
The most trending style of diamond rings in 2018 owes to open engagement rings. These are set with similarly colored or contrasting colored diamonds with an open cavity in between. In short, open styles of diamond engagement rings can be customized in different settings too!
Choose a Jemma Wyne open diamond ring setting HERE!
Encircled by Rose Gold against the hammered platinum, this engagement ring is a winning style for 2018 wedding bands for men. Hammered Platinum on Rose Gold is a catch design that rests well on the finger. It is innovative, cool and macho for any man!
Browse Simon G on The Knot here!
Popular as the Anmore Ring, this rare Emerald set gemstone diamond engagement ring is trending in 2018.  The art deco design can be customized to order online too!
Check out Gemstone Engagement Ring styles from Brilliant Earth here!
Available in Criss Cross to double and split shanks, this diamond engagement ring is  set in 14K white gold. Catchy and trendy, the double shank contrast with diamonds and white gold is striking any day!
Look for Double Shanks or Split Style of Diamond Engagement Ring for your wedding on Adiamor here!
Superhot and popular in engagement ring designs of 2018, we advise picking the twisted eternity band style of diamond ring for your engagement. It is heavily laid with diamonds and signifies eternal love.
Browse for Beaverbrooks Twisted Band Style of Diamond Engagement Ring here!
2018 is blossoming with diamond rings for weddings made in flower and floral accents. From adding colored diamonds to gemstones, floral accent engagement rings are available in diverse designs from Simon G!
Checkout catchy floral accent diamond engagement rings on Simon G!
A classic since a hundred years, three stone styles of diamonds engagement ring is sleek and glamorous any day. If you love colors, don't miss out on adding contrasting colors for side stones to highlight the centrestone in 3-stone style. You can even get tiny diamonds to a halo around the 3-stone diamond style ring for your wedding.
Browse for lovely three stone diamond engagement ring style on Fascinating diamonds here!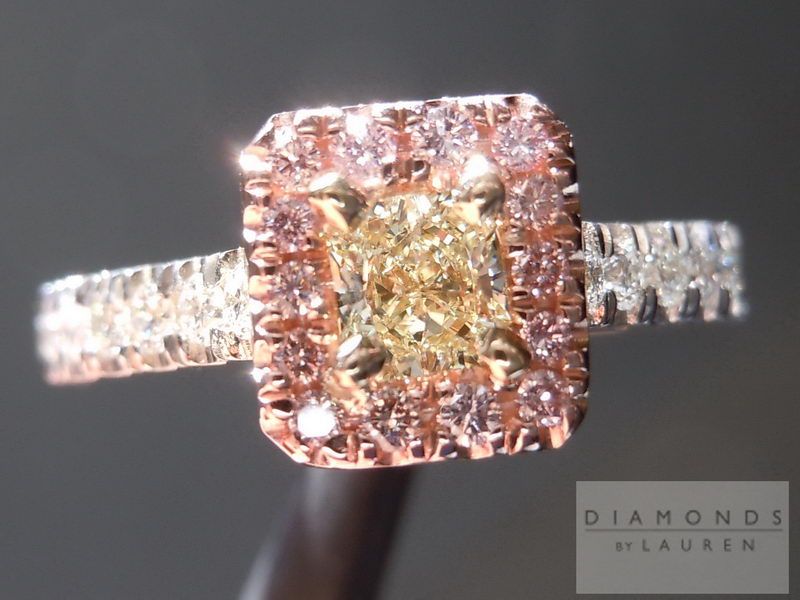 A beauty that turns every looker, pink lemonade styles of diamond engagement ring is getting popular every day in 2018. Diamonds by Lauren has a wide selection of different colors diamonds and gemstones to pick your engagement ring from. It is colorful, unique and definitely gorgeous!
Find your dream engagement ring with colored Diamonds By Lauren here!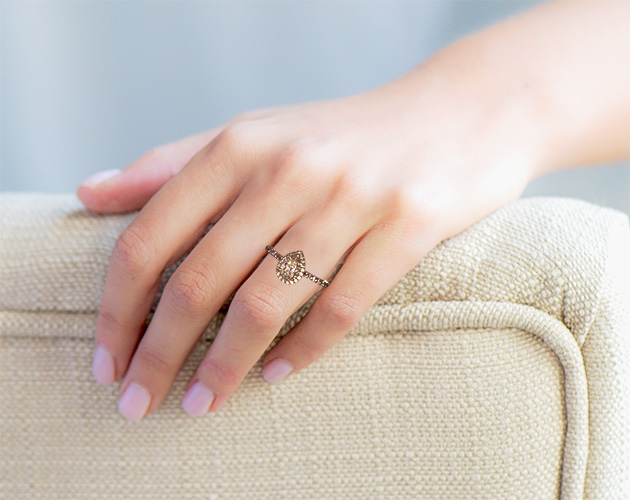 Colored metal with white diamonds is a head-turner, any day! Moreover, Rose Gold is making huge comebacks with most celebs donning the rose gold diamond engagement rings. Pick your rose Gold engagement ring with a white diamond from James Allen here.
Check for Rose Gold Diamond Engagement Rings on James Allen here!
A unique and new addition to popular styles of diamond engagement rings in 2018 is scrollwork setting. Made with two blue sapphires, this scrollwork diamond engagement ring has a centre diamond and several tiny diamonds encircling the other stones.
Scrollwork setting on diamond engagement rings is available in Kirk Kara design in metals such as 14K White gold, 14 K Yellow Gold, 14 K Rose Gold, 18K White Gold, 18K Yellow gold and 18 K Rose Gold varieties.
Look for more Scrollwork Setting of Diamond Ring for Wedding on Ben Garelick here!
Before You Go …
If you're wondering which setting or styles of engagement ring to choose from, we've got your back. Sit back and choose your pick from the above rocking engagement ring diamond options now!
Drop us a comment for expert answers on Diamond Engagement Ring Styles that fits your profile!