One of the artisanal designs that look sophisticated and extraordinary from every angle, Celtic Knot engagement rings are classy too. They are superb for those who take pride in the Celtic traditions, literature, dance, music, and culture. Celtic rings were not just used for engagement rings. It was widely used between friends and family too, once upon a time.
But today we will explore 7 breath-taking Celtic knot engagement rings you've never seen in your life.
Are Celtic engagement rings good to look at?
One of the most underrated engagement ring design, Celtic knot is gaining pace this year since January. They are classy and speak a unique tongue. It can make you look sophisticated and mysterious. Most Celtic rings look cool with casual and party or office attire. It will blend with any personality or style effortlessly too!
Top 7 Celtic Knots to Turn your Head Around for
I admit I am smitten with Celtic Knot rings. They add a pretty pop of design to the engagement ring world. And, to think Celtic Knots are not a new thing, is amazing. Celtic knot rings have been alive and in use forever. It just started getting into the mainstream for being eternal, and wouldn't you want a piece of that gorgeousness?
A breathtaking diamond ring from the Angara, this solitaire princess ring is a Celtic knot to worship. The design can hold 0.5 to 1.05-carat diamonds with a princess cut diamond. The prong set diamond has an H color and S12 in the picture you see above. It comes with a lifetime-guarantee and proof of conflict-free sources.
Available Metals
14K Rose Gold
14K Yellow Gold
14K White Gold
Platinum
Price: $5,539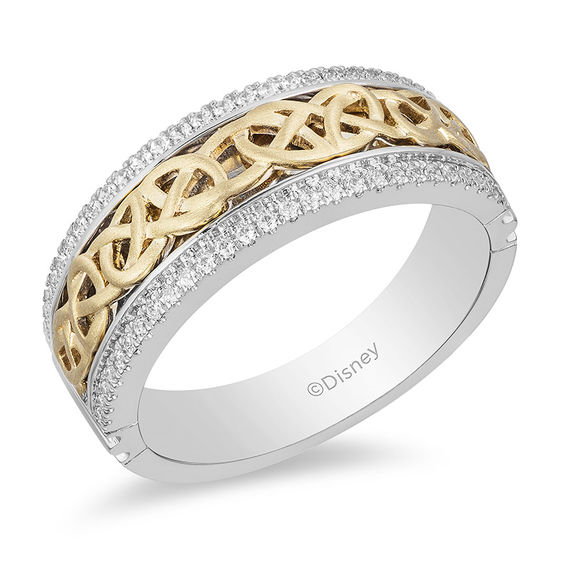 A gorgeous ring with channel set diamonds embracing the Celtic Knot in a breathtaking shimmer, this enchanted Celtic Knot is dual toned with official Disney hallmark inside. It is constructed in 14K Yellow and White Gold with radiant cut stones outlining the slender ring. Total weight of diamonds come to a total of 0.25 carats. With an 'I' color, these are I1 clarity diamonds that come with a lifetime warranty.
Available Metals
Two-tone: Yellow and White Gold
Price: $1,335
Adorned with a 0.75 carat diamond in the center, this Aberdeen diamond ring from Brilliant Earth is a stunning Celtic Knot worth admiring. The round shaped diamond shows a D color with VS1 clarity in an ideal-cut. Sent by Fed-Ex, it comes with a professional appraisal along with 30 Day full refunds and lifetime warranty.
Added with the 12-month financing, this ring is a beauty not to miss even if you're out of credit.
Available Metals
18 K White Gold
Price: $5,180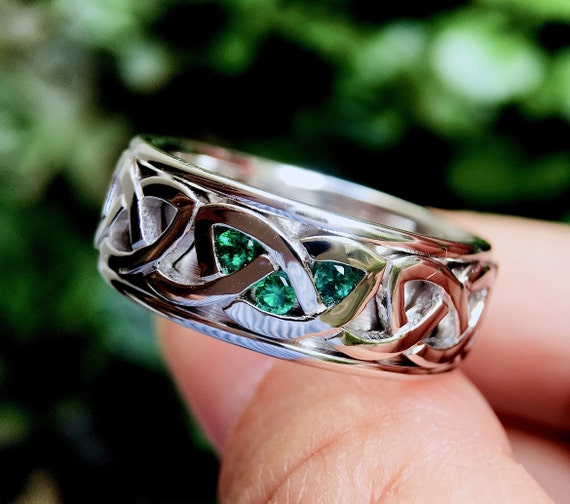 Traditional and classy, this Green Celtic Knot on Etsy is a game-changer. It features three emeralds on 14K White Gold with a cozy fitting. Engraving is free up to 15 characters on this ring. Set in gold, the Celtic knots are finely crafted to rest comfy against your fingers.
Available Metals
14K White Gold
Price: $1,099
An artisanal piece for women with a fine taste in fashion, this multi-band engagement ring is a Celtic design known only to a few. It comes with a wedding ring, inlaid with sparkling diamonds too. Together, the rings display 48 VS diamonds with G color weighing a total of .48 carats.
Available Metals
14K Rose Gold
Price: $2,695
An endless Celtic knot signifying eternity, this is a plain band engagement ring in Celtic style for men on a budget. Set in Platinum, this ring has a width of 4.0 mm with a comfy standard fitting. The ring comes etched with the hallmark of Brilliance too.
Available Metals
Platinum
Price: $895
A gorgeous marquise cut diamond on two-tone metal with the Celtic knot showing off in rose gold and the shank in white gold, this is a treasure to take pride in. Fiona Celtic ring is fully customizable with your own choice of diamond, clarity, color, and size. Go ahead and click on the buy now!
Available Metals
14K Rose, White, Yellow Gold
18K Rose, White, Yellow Gold
Platinum
Palladium
Sterling Silver
Price: $1,315
Before you go …
Why do you like Celtic rings? Which was your favorite Celtic knot ring? Tell us in the comments below.
Read More about Engagement Rings on DPA …