Bezel setting is the all new fad right now, wouldn't you agree? A beautiful design that safeguards the design and make the ring look gorgeous, bezel setting has many flaws too. Do you know light does not pass through a covered bezel setting? What else is there to know about bezel setting before you buy it?
That's what today's post is all about. If you're thinking of investing in bezel engagement rings, you need to know the types of bezel setting as well as its pros and cons to make an informed decision. Engagement rings are for life, remember!
What is bezel setting?
Popular as the Collet Setting or Rub over setting, bezel setting is a trendy design of the 21st century. Bezel setting is one where the diamond is placed in a cushioned space of metal that covers it partially by outlining the diamond safely in place.
Bezel setting has custom rim around the diamond or gemstone in the center to hold it tightly. In case of a prong setting 4 to 6 and even eight prongs hold the central diamond whereas the bezel setting has no prongs. A metal strip surrounds the diamond to keep it safely.
Types of Bezel Setting
When you're learning about bezel setting, there are two most important types of bezel set rings you need to know about. These are the two most common variety of rings in bezel setting.
Full bezel
A unique piece, full bezel covers the ring in the center totally. It leaves no space or gaps. The diamond will be covered from the bottom and rims with the same metal it is built on. Full bezel is the best setting to protect your diamonds.
Partial bezel
Popular as half bezel and semi bezel, partial bezel does not cover the diamond totally like a full bezel setting. Partial bezel stones are surrounded by metal at few parts rather than the whole. They create more sparkle even if they are prone to more damage and snagging.
Pros of Bezel Setting
What's so good about bezel setting? Why is it trending? Is bezel setting really worth it? What makes it an amazing engagement ring setting? Let's find out all the advantages of bezel setting in detail!
· Bezel set Engagement Ring Does not Snag
Unlike the prong or halo setting, a bezel set ring does not get caught in fabric or twines. It is completely protected without snagging props around it. Bezel set rings are ideal for those who wear delicate fabric clothes. It is not a disruptive ring.
· Your Diamond is Safe with a Bezel set Engagement Ring
First thing first, your diamond is perfectly safe once you get a bezel set engagement ring. There is no chance of the prongs loosening and the diamond rolling out of the ring. That's because there are no prongs on this ring. It is a metal rim that holds the diamond snugly in place. You will never have to go for a prong-check to the jeweler once you get a bezel set engagement ring.
If you're opting for a gemstone ring, bezel setting is again best for you. That's because most gemstones being less strong than diamonds, need extra protection.
· Bezel rings are Safe for Active Handiwork
As bezel set rings does not disrupt your work, it is best setting for those who are involved in active hand work in their career. These rings are easy to wear while working as it does not prick or pluck anything en route.
· Color looks better in a diamond set in Bezel
Do you know a bezel set ring makes the diamond look whiter than it is? That is, only when the base metal is also white such as white gold or platinum. On the other hand, if you choose a yellow gold setting, your diamond in the center will appear yellow and warm.
· Bezel set Engagement Ring Can easily Hide Flaws
One of the best advantages of bezel set ring is that it can make the diamond look better. In short, bezel setting can hide the inclusions or blurry quality of your diamond, especially if it is seen on the sides. Bezel set diamonds with chips off on the side of the diamond can be well hidden with a good bezel setting.
Cons of Bezel Setting for Engagement Rings
What is bad about bezel setting? Why is it a bad choice to settle for bezel set engagement ring? What do you need to watch out for when you're picking a bezel set ring for engagement? We'll find out all the cons and disadvantages of bezel setting in engagement rings below.
· Reduces the size of appearance of the diamond
As the diamond is below the rim around it, the diamond appears covered and smaller than it really is. This is because of the full bezel setting. With a partial bezel setting, the diamond will appear larger than it really is. However, bezel setting in general diminishes the size of the diamond.
· Costly Setting
As the bezel setting uses more metal than an ordinary ring, it is expensive to create. That's also because a bezel set ring needs painstaking precision to make it right. It has to be perfect to work as a ring. That's why, you might end up spending more on the size of the diamond to compensate for how little of it is seen to the onlooker!
· Less light reflection and sparkle
As the bezel set diamond in the center is almost always covered in the back, there is less reflection and refraction happening on the rock. That's why, it will look dull without much sparkle. If you're okay with a diamond without the brilliance you paid for, bezel setting is right for you. Else, run!
· Tough to Repair and Resize
Do you realize the precision that goes into designing a bezel set ring? It is made exactly to fit the diamond and if you seek repair or resizing, the jeweler won't be able to make changes to the ring without changing it totally. A bezel setting engagement ring is almost-impossible to repair!
· Not so easy to clean
Bezel set diamond is set inside a cup like depression in the center of the ring. As it is made with metal without any opening, getting your soft bristle brush inside for cleaning might be heck of a job. You may have to visit the professional jewelers to clean your ring every 6 months if it is set in bezel setting. Even routine cleaning might turn out to be a hassle with a bezel diamond ring!
7 Popular Bezel Set rings from credible Jewelers Online
You've seen all about bezel rings above. But, what are the most popular bezel ring designs popular in the jewelry market today? Let's find out in detail!
You can also click on the source link under the image to head over the original website and purchase directly.
·      Luxurman Bezel Engagement Ring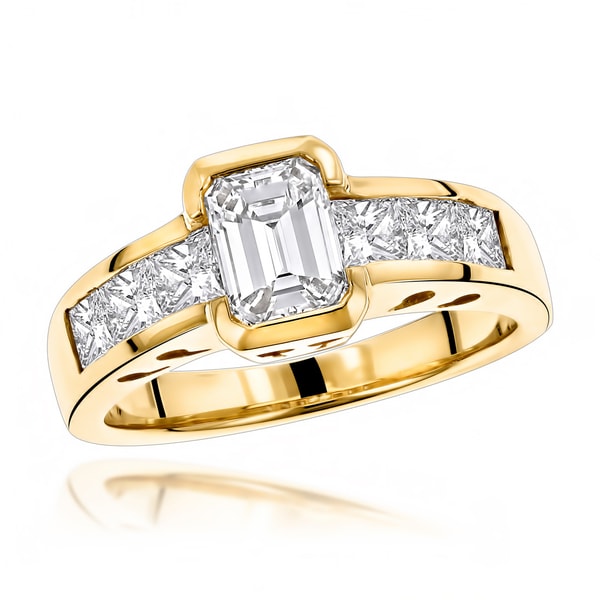 A gorgeous and pricey ring with an expanded bezel, Luxurman engagement ring is one of a kind. It is set in 14K Yellow gold in 4 carat princess cut diamonds with the central emerald cut diamond. You can even get no-interest financing up to 2 years on this ring from Overstock!
Price: $12,248.49
·      Imogen Diamond Ring
A fashion fabulous bezel engagement ring from Brilliant Earth, this is a ring that speaks volume. Set in 0.75 carat round diamond in the center, Imogen ring has a total carat weight of 0.81 diamonds. It is made in 18K White gold with a complimentary diamond bracelet free of cost with your purchase too!
Price: $5,490
·      Round Diamond Engagement Ring in Bezel Setting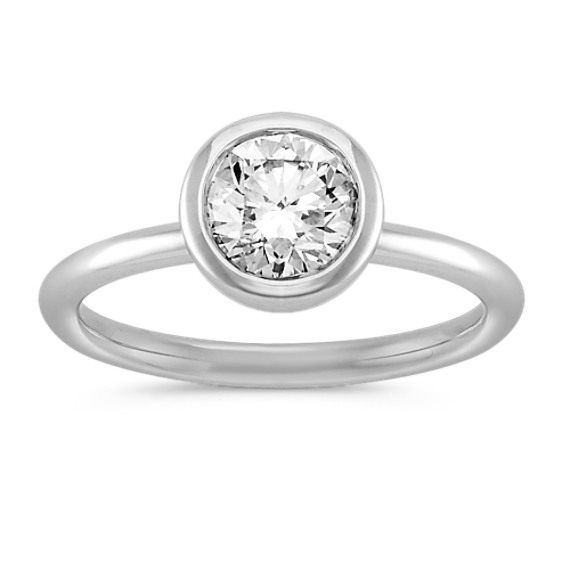 Designed with a round diamond in the center, this Shaneco Bezel engagement ring is a classic. It is set with diamonds of total carat weight of 1.02 and 14K white gold. It is engravable if you're already thinking! Free lifetime warranty and 60-Day money back is available on this purchase from ShaneCo.
There are layaway plans, financing, paypal credit, Google Pay and Apple Pay options available for buyers on Shaneco.
Price: $5,295
·      Solitaire Semi-Bezel-Set Diamond Engagement Ring
You haven't seen such a partial bezel like the one from Ritani. Classy and spectacular with an antique allure, this Solitaire in semi bezel is a statement piece engagement ring. It features a 1-carat diamond in 14K white gold. The central rock is faint yellow and slight inclusions with the color L. It has a very good cut too!
Price: $3,671
·      Full Bezel Solitaire
A breathtaking ring from Brian Gavin, this full bezel solitaire diamond is a beauty with old-world glamor. Set in 18K white gold, you can get the ring made in 18 K rose and yellow gold apart from platinum. The engraving is $30 extra and this price is for setting only. To calculate, add $100 extra for diamonds over 2 carats here. The design is a BG signature design with even the melee diamonds at F/G colors. There is one trustpilot review of the ring online.
Price: $1,275
Verdict on Bezel Setting …
Bezel setting is great for those who work with fabric or have hefty handiwork as it keeps the diamond safe. You can also save on a bezel setting by getting a gemstone in the center rather than a diamond as the bezel setting is the safest setting for engagement rings.
Ask your doubts on bezel set diamonds in the comments below.
Read More about Engagement Rings on DPA …